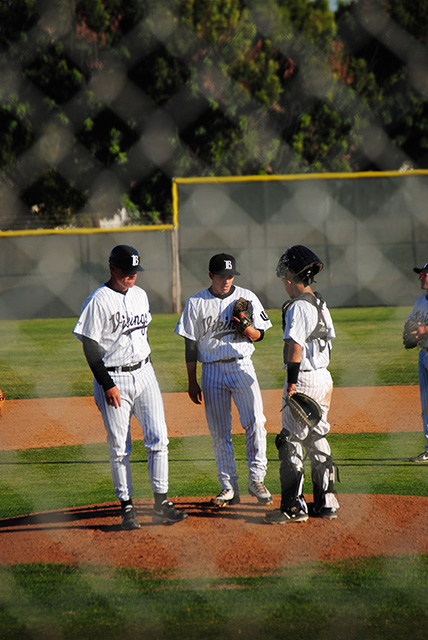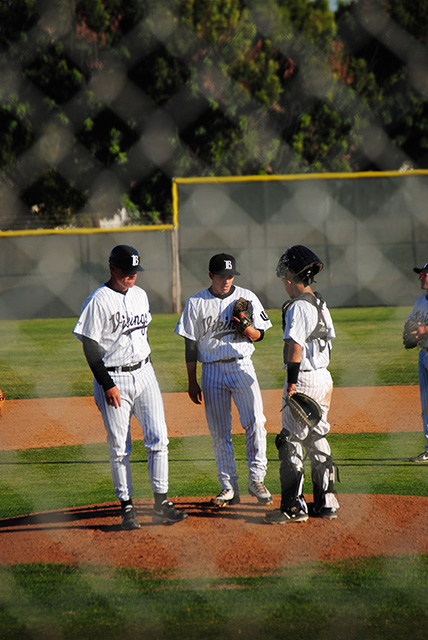 After holding a definitive lead for a majority of the game then nearly losing that lead in the eighth inning, the LBCC Men's Baseball team got the 5-4 victory over the East Los Angeles College Huskies on Tuesday, March 6.
The Huskies scored first, recording one run off of a double to jump out to an early 1-0 lead in the top of the third.
The Vikings answered with a run of their own in the bottom of the third when freshman catcher Andrew Mugica scored off of a double hit by sophomore third baseman Reese Berberet, ending the inning tied 1-1 with the Huskies.
The score remained tied until the bottom of the fifth, when Mugica and sophomore outfielder Collin Perez both scored  runs off of another Berberet double. Berberet was brought home by a deep double hit into left field by sophomore outfielder Aaron Fawcett, giving the Vikings a 4-1 lead heading into the sixth inning.
In the bottom of the 7th, freshman catcher David Balboa scored a run off a sacrifice fly by freshman first baseman Mark Stanford, giving the Vikings a 5-1 lead at the end of the inning
The Huskies intensified their offensive effort in the top of the eighth, scoring 3 runs, but the the Vikings were able to close out the inning holding on to a 5-4 lead.
Vikings assistant coach Vinnie Chavez was glad that his team was able to stop the Huskies' scoring run.
"It was nerve-racking, but everybody stepped up and got it done," Chavez said.
The Vikings were able to hold the lead and close out the game in the top of the ninth, claiming a 5-4 walk-off victory.
Aaron Mugica, who finished the game with two runs, attributed the victory to his team's fighting spirit.
"It was hard-fought," Mugica said, "We never just try to make it an easy win, we always strive for the best. We're a team not to be taken lightly. We can definitely stick it to teams, and even when we're having a little bit of a rough time, we'll still try to come out on top."
Freshman second baseman Travis Aversa smiled as he gave his thoughts on the team's performance as a whole.
"It was a good team win for all of us. We hit good, played good defense. It was a good game."
After dropping their conference opener the Vikings have won two in a row to improve to 2-1 in the South Coast Conference and 10-8 overall. They face Huskies again at East Los Angeles College on Thursday, March 8.