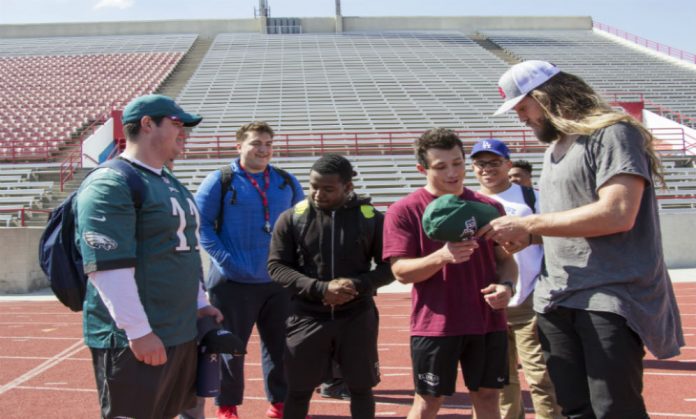 Former LBCC football standout Bryan Braman returns as a Super Bowl champion with the Philadelphia Eagles as he met with employees, former coaches, and fans today at the Vets Stadium on Thursday March, 1.
Braman shared his story of struggling with his academics and at one point being homeless, to becoming a Super Bowl champion.
Assistant Coach Neo Aoga coached Braman for the two years that he attended LBCC said, "I knew he would make it, he was a good kid with a good work ethic and he was hungry."
Mitchell Kay, freshman offensive lineman said, "Everybody has to start somewhere, LBCC is a second chance for a lot of us."
"Just seeing him play during the playoff game against the Falcons, all I could keep on saying was I know this guy he played for LBCC and just seeing that was the biggest motivation for me in my own career." Kay said.
Barman received a full scholarship right after high school and played for the University of Idaho for only one year due to academic reasons before being recruited to LBCC.
DeAnthony Jones, freshman defensive end said, "It was cool seeing him come from the junior level and struggle not only on the field but off of it as well, and to come back the way he has."
Former coach Jerry Jaso said "he had the talent that would take him to the next level and we knew that he was special."
Jaso also added "it's great to see how he's progressed as a person overall as he really came from humble beginnings."
When asked what advice Barman would give to the student's athletes he responded with "take care of everything off of the field."
"Coming down to LBCC really helped me in my career and lessons I learned here I definitely used further on when transferring to West Texas A&M." Braman said.
Braman stayed and engaged with fans, trustees and employees of LBCC for a couple hours at the Vets Stadium as he said "Once a Viking always a Viking".