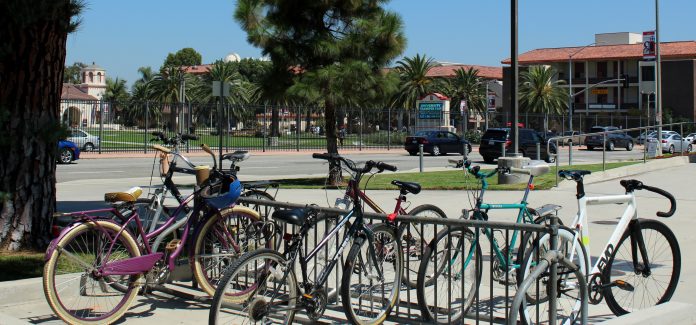 Officers from the LBPD city college division took it upon themselves at the tail end of the spring 2018 semester to post memos around both LAC and PCC to inform students on how to prevent and discourage bike theft, as well as what to do if you have become a victim of this string of crime.
These semester tensions are high as students take extra precautions to ensure that their property is safe while they are in class for hours at a time.
Math major Jake Harry, said his last bike was stolen while he was in class at PCC and that it affected his way of life the rest of the semester because "having to drive every day put a strain on his financial stability."
Because of those events, this semester he was forced to double-up his locks and change the way he secures his bike to the racks on either campus.
Danelle Balaoro, an early childhood development major mentions the fact that the campus is too open for this kind of behavior not to occur.
When asked about safety, in general, she said she feels a bit nervous walking back to her car after an afternoon class.
The trend now becoming more popular with cyclists around campus is locking up your bicycle with multiple locks to ensure that your bike stays put while you are in class.
Many students who ride their bike to class often pick and choose specific spots on campus in which to lock up their bike.
For instance, the bike racks in front of the T building on Carson street are always full, as opposed to the racks between the under-construction P building and the N building that are in a hidden area and always empty.
Some students on campus have also suggested new procedures on how to protect themselves from theft, including dismantling their bike to make it easier to lock up.
Other students have taken it upon themselves to remove the front wheel from their bike completely to ensure that any thief has a difficult time attempting to take their transportation away from them.     
Some cyclists like LBCC student Matt Rosales believes that the danger is always there and that there is already enough being done by campus security to prevent and deter these crimes from happening.
"Maybe they don't have another choice," Rosales said. "They might need fast cash and the only way to do that is to steal."
Unfortunately, the danger is always there for students looking to save a bit of money on gas and a parking pass, or who do not have a vehicle at all and a bicycle is their only mode of transportation.
Resident LBPD officer Lieutenant Omar Martinez has said that they will be stepping up awareness for this type of crime by trying their best to inform students of bike theft to the class about the danger they face while leaving their bike unattended out in the public eye. When asked how they intend to do this, the Lieutenant said his unit is working on creating pamphlets as well as an informational video available to students detailing their protocol on bike theft and what to do if you are victimized.
The LBPD will also be releasing up to date reports on this crime in particular in order to further inform students and make sure they fully understand what is happening around campus.