Story and Photos by Luis Ramirez
Fire alarm pranks may not be exclusive to high schools anymore as a fire alarm at PCC went off and caused a brief moment of mayhem on Wednesday, August 29, 2018.
Police officers, and firefighters came to the scene and all confirmed that it was a likely a false alarm and a prank.
The long lines of students waiting for the financial aid, admissions and records offices were immediately escorted out to the parking lot. In other areas, security and other faculty guided students outside to safe areas on campus.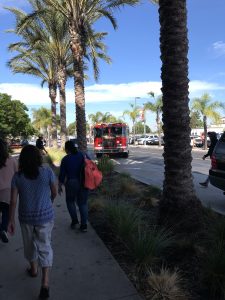 Amanda Kinser, a student worker at counseling department said, "It was just a normal day at counseling. I was helping and attending to students when the loud fire alarm began ringing. I was taken by my supervisors to the school's quad. I was so shocked, I really thought there was fire on campus."  Kinser also shared how confused and upset she felt when she found it was not an emergency but instead a prank.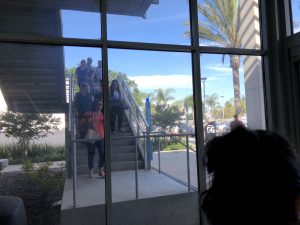 During the alarm, students were immediately taken out of class as well. One student, Iveth Hernandez, said with enthusiasm, "It may not be an emergency but at least this is a break from our classes!"
After the alarm firefighters and police officers began their investigation into the cause of the  alarm and who triggered it.
The public information officer for the Long Beach Fire Department, Matt Dobberpuhl, shared details about the incident. Dobberpuhl said, "The alarm was triggered at north of the dining room. Gladly through investigations, we confirmed it was a false alarm. Most certainly a prank done by a student." Dobberpuhl also expressed that he feels a little dismayed about the fact police and fire officers were not needed. He added, "We are familiar with this kind of situations."
When their investigation concluded and officials confirmed their was no threat in the buildings, the green light was given to campus security and faculty to lead students back to their classrooms.
Firefighters left the scene and police officers remained on campus to do further investigation and  search for the person responsible.