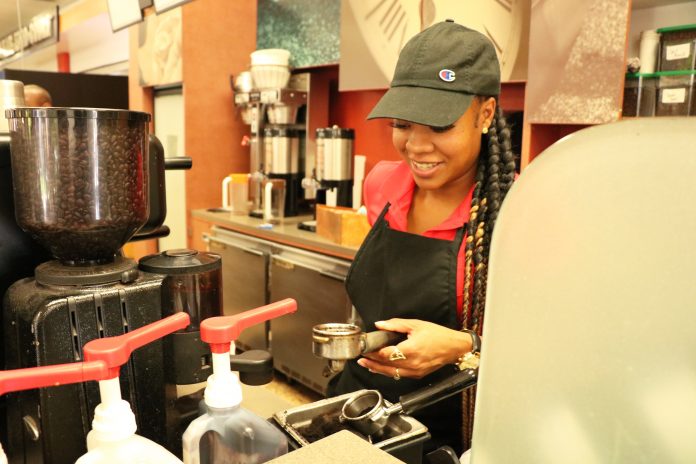 The cafeteria coffee cart, Nordic Cup, began "Proudly serving Starbucks" at the LAC location in Spring Semester 2018. The coffee stand has been serving items such as brewed coffee, espresso beverages, and bakery items in the past but the new element is that the corporate coffee company has now become the star.
The Nordic Cup has been the place for students to grab a quick caffeine fix before class without having to leave campus. Located inside the cafeteria it is accessible to students while they are already grabbing a bite to eat. The Nordic Cup has their versions of famous drinks such as blended iced coffees, lattes, and smoothies but some students express that now they frequent the stand more often.
Long Beach City College student, Myjia McCloud, expressed how the new addition to the coffee cart is a plus as a student. "It was Nordic Cup, right? But I think more people like Starbucks. Before I would have to go off campus but now its right here so you can come in between class," McCloud said.
Not only are the baristas making their original items but they are multitasking and serving Starbucks beverages as well. The Nordic Cup barista, Tee Johnson, shares how the Starbucks addition has changed the flow of her duties. "We are extra busy I love it. Everybody likes Starbucks, I feel like I'm bartending and enjoy making people happy," Johnson said.
The reviews for the coffee giant coming to the local Nordic Cup were not all positive. Tanya Ervin, English major, shares how having Starbucks join the LBCC cafeteria may seem like a corporate takeover. "I feel like they kind of sold out. I liked the coffee before because it was always strong and Starbucks coffee isn't as strong," Ervin said.
To pick up a "proudly served" Starbucks beverage visit the Nordic Cup at the LAC campus inside the cafeteria just outside the D building and is also accessible through the E building.