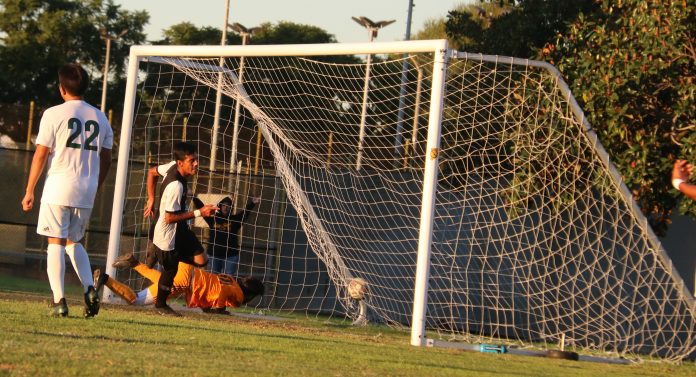 Midfielder Ruben Menjivar scored a goal off an air ball sent from midfielder Sergio Flores to secure the win near the end of the second half to finish against the visiting East Los Angeles College Huskies 3-2 on Tuesday.
Both teams showed aggression towards the ball throughout the entire game but the Vikings were able to keep their high pace to offset the Huskies gaining them the win.
Going into the second half up 2-0, head coach Cameron Beaulac encouraged his team to keep up the same tactics and drive.
"I told them all that they need to stay mentally focused in the game going back on the field," said Beaulac.
The Huskies scored back-to-back goals tieing the game in the beginning of the second half.
One goal by the Huskies freshman Kevin Flores Silva off a corner kick and by freshman Alfredo Maciel from a free kick.
The Vikings were able to answer back after numerous close goals by swinging out the ball to both wings on the field.
Forward Carlos Maldonado earned the Vikings their first goal with an assist from fellow forward Steven Espinoza followed by midfielder Jaelyn Agu's first goal of the season.
"All three goals that we scored today were from the ball being touched from more than like three players so we definitely played more like a team today," said Maldonado.
Defender Ruben Lara explained that for upcoming games, the team needs to work on their set piece coverage.
"Both of those goals came off of a corner kick and a free kick so we definitely need to work on set pieces," said Lara.
The Vikings advance to 9-2-2 taking on the Rio Hondo Roadrunners who are 9-1-5 on Friday at 4 p.m. at LBCC.