Running back Pierre Robinson rushed for 90 yards and scored a total of two touchdowns to lead Long Beach City College over host Cerritos College Falcons 46-32 on Saturday night at Falcon Stadium for the Crosstown Cup.
The Viking's offense showed up against the Falcons with a touchdown completed by running back Raphael Jones by the end of the first quarter keeping the Vikings with a 7-0 lead.
Sophomore kicker Augustine Delgadillo made a 22 yard field goal in the second quarter bringing the Vikings to a 10-6 lead.
The Falcons briefly spoiled the Vikings lead with a 70 yard run by running back Rhamondre Stevenson bringing Cerritos to a 10-13 lead.
The Vikings came back strong with two more touchdowns by the beginning of the third quarter, bringing them up to a 24-13 lead.
In the fourth quarter Drake Peabody completed an 11 yd pass to Milshon Lathan while Jonathan bonds completed a 2 point conversion pass bringing the Vikings to a 39-25 lead against the Falcons.
Quarterback coach Sean Flynn spoke on the teams overall improvement from last weeks game, "I thought we made huge improvements from last weeks game, we really cleaned up and were able to pay more attention to detail which we didn't do last week and it paid off in this game."
Freshman running back Pierre Robinson and Sophomore quarterback Drake Peabody played big games Saturday night against the Falcons, with Robinson rushing for 90 yds with two touchdowns and Peabody throwing for 249 yards, including a touchdown through the air and rushing for 9 yards and another touchdown.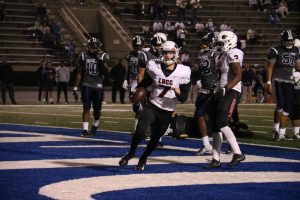 Coach Flynn has kept his confidence with the team going into conference, "I never lost confidence in the team, we went back and watched the game against Riverside and there were just a lot of things there we didn't execute."
Coach Peabody said "We definitely need to keep improving our field goals, we've only hit 3 out of 7 of our field goals this season. We also need to tackle better, I don't think we've tackled very well these past two games."
"I thought overall we played quite well, it was nice to see that when the going got tough and Cerritos started coming back we responded, we got stops in the defense and we continued to score," said coach Peabody.
The Vikings will be traveling to East Los Angeles to play against the Huskies on Saturday Oct. 13.