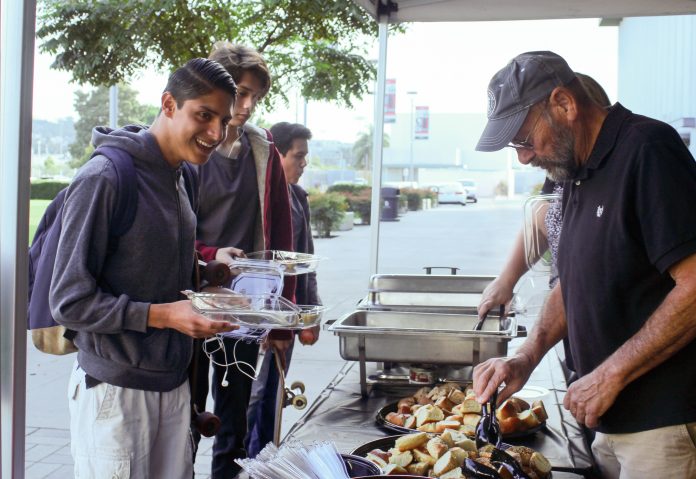 Bagels with cream cheese, fruits and beverages were given out to students who stopped by the Better Breakfast Day booth at the PCC quad on Oct. 30.
Healthy Viking Initiative, a program organized by Student Affairs, had a small event where students could come by and get a quick, free breakfast snack.
"Breakfast is the most important meal of the day and that's why we decided to do breakfast events rather than lunch, though that doesn't mean those won't happen," said Student Affairs intern Sergio Grimaldi who volunteered at the booth.
Deborah Miller-Calvert, Director of Student Health and Student Life, shared how these initiatives are important to keep LBCC students active and successful in their academics.
"We know that students often come to school without eating breakfast and we know food is energy and that students are going to have more academic success if they have food and that they're nourished," said Calvert. "We don't want students to be hungry at school."
Edvin Lopez is one of those students that Calvert had mention who skip breakfast in order to come to school for morning classes.
"This is amazing. I'm pretty happy because I haven't had breakfast. This is like a gift from the Heavens," said Lopez while he had a bite of a plain bagel.
Students had the option to choose from bagels with cream cheese, with blueberries or with butter.
They also were able to pick between apples and bananas, which ran out quickly.
Calvert stated how successful this event has been, extending it from the month of September through November.
Besides Better Breakfast Day, Healthy Viking Initiative has been organizing events like Walking Wednesdays and Healthy Life workshops.
Healthy Viking Initiative will also be setting up an afternoon event today called Love Market, where they will distribute canned food while supplies last as well in the quad.