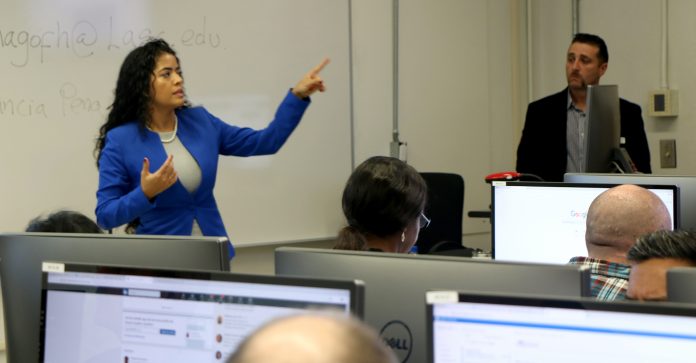 LinkedIn Learning is coming all across California as a state initiative funded by the state to community colleges and is taking a focus on the Los Angeles Community College District.

LinkedIn is best known for people looking for jobs and employers looking for candidates of those jobs.

With LinkedIn Learning students can earn online badges and certificates to those prospective jobs and help students achieve goals.

LinkedIn bought Lynda.com which has now become LinkedIn Learning today.

Career Coach and LinkedIn Administrator Francia H. Pena, teamed up with Nick Carbonaro professor of business administration and economic department to present LinkedIn Learning to faculty at LBCC.

Carbonaro planned a workshop for faculty called, "LinkedIn Learning: How to Create a Level Economic Playing Field through LinkedIn."

A classroom filled with faculty members learned about what LinkedIn Learning is and how faculty can get LinkedIn Learning in their classrooms.

Pena explained to the faculty in the workshop the importance of what LinkedIn Learning can offer to faculty and their students.

"Faculty can invite their students to the platform and group them into categories to suggest videos and courses related to their classes," Pena said.

LinkedIn Learning is $30 a month, but faculty were able to get LinkedIn Learning for free, and through faculty, give it for free to their students.

According to Carbonaro, this will be the first semester that LBCC is starting with LinkedIn Learning.

This workshop was specifically targeted to faculty, for faculty can give their students more resources to succeed.

Gene Carbonaro, dean of career technical education at LBCC, was in attendance with Anthony Pagan, associate dean of career technical education to show their support.

"It's a more structured education platform so, I'm sure there's statistics out there as far as students going onto youtube to access various tutorial videos to teach them set skills, but now with LinkedIn Learning you have a structured environment where if I'm pursuing a particular set of skills or competency that it is in a format I don't have to go searching for," Pagan said.

A couple of faculty members explained what they liked about the workshop they attended.

John Sicklick, part-time professor of computer office studies said, "I think it is a great opportunity for students … Life management can help students get jobs."

Gerard Greenidge, part-time professor of career technical education said, "Gives students the opportunity to learn on their own."

According to Pena, it is up to faculty to share with their students the value of the platform and what it has to offer.

The LinkedIn Learning workshop has opened up a new way for faculty to help students achieve their education goals.