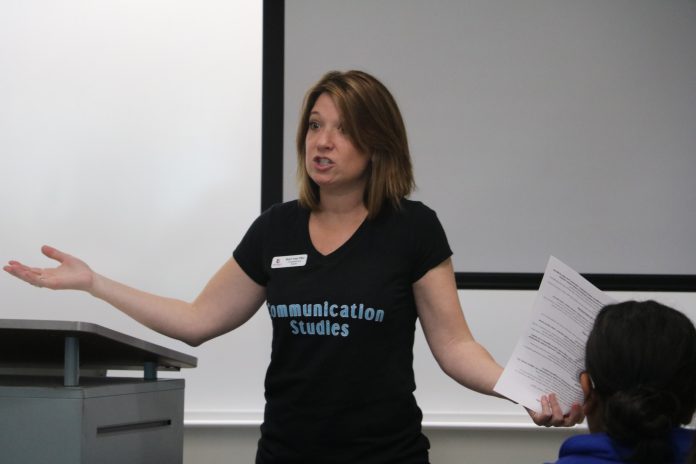 What can you do with a communication studies degree? That depends on your emphasis. What is an emphasis? Good question.

LBCC communication studies department held a workshop to try and answer these questions in room T1300 at the LAC on Tuesday, March 26.

Communication studies professor, Kari Ann Pike, opened and led the 40 minute presentation to a room of around 60 people.

"I hope the students will get some insight on what it's going to look like, in terms of degrees and potential career options," Pike said.

The presentation was broken up by areas of emphasis for communication studies degrees: general, interpersonal, organizational, public relations/marketing.

Analisa Ridenour covered the area of general, interpersonal and organizational communication studies.

"The general option will help you if you haven't found your niche yet. You can find classes you are interested in and take your electives in that focus," Ridenour said.

Pike delivered the second portion of the presentation that covered the communication studies emphases of intercultural, public affairs, public relations and marketing.

"All of us would advise you to take classes in different areas to find your strengths and help guide you in your choices,"Pike said.

Communication studies careers range from school counselor to social media manager and corporate trainer.

Special guest speaker and LBCC alumnus, Bobby Lith, is a student assistant in the student affairs office at CSULB; specifically he works in the SOAR (Student Orientation Advising and Registration) department.

Lith offered his experiences as a communication studies student, and graduate.

"Seek opportunities that will help you develop your skills. A lot of the learning you do also takes place outside of the classroom," Lith said.

Communication studies assistant professor, Alexandre Hatlestad-Shey, supported the idea of learning outside the classroom.

"If there is someone you genuinely want to work with after graduation, reach out to them now," Hatlestad-Shey said.

Communication Studies department counselors Phillip Huerta and Tamika Hunter, were also in attendance to answer questions and offer insight to students attending the workshop.

Huerta offered strategies to maximize communication studies courses at LBCC.

"You can use a lot of communication studies courses toward your general education and get two degrees while you are here,"Huerta said.

Communications studies major Yadira Gonzalez had positive feedback regarding the workshop.

"It was very helpful. I learned about the emphases for comm. I didn't know about those before," Gonzalez said.

Communication studies department head, Samira Habash, was in attendance with nine other professors from the communication studies department.

"It was Analisa Ridenour's idea, she brought it to a department meeting; it was initiated by students' questions in her class. We hope to do more workshops," Habash said.