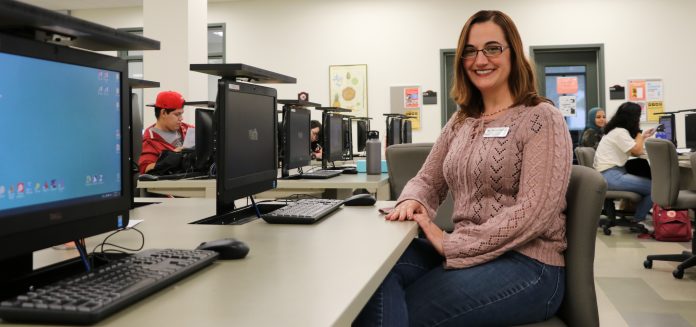 Mathematics is more than a job for math success coordinator Sundee Dominguez, it is also a way to rise up and out of poverty.
"I grew up poor, we lived in a single apartment. I was like, this isn't how I wanna live," Dominguez said, "It wasn't a question for me, I knew I was going to college."
Dedicated to eliminating barriers for all students, Sundee Dominguez personifies student focused education.
With this dedication for student success, she was awarded the 2019 LBCC Classified Employee of the Year award on May 6.
The Long Beach Community College District presented Dominguez with a plaque recognizing her "continuous and unyielding service" as well as "outstanding commitment to the college mission and tireless dedication to the students we serve."
Including the recognition by the college, Dominguez has been nominated by her colleagues for the statewide Classified Employee of the Year.
The statewide award recommendation was announced at the LBCC board of trustees meeting in February by the board president, Sunny Zia.
"Sundee Dominguez embodies the California Community College (CCC) mission in every role she takes. When supporting Math Success Center (MSC) students, she initiated programs that effectively lowered the cost of education by providing free access to textbooks and calculators for students. These resources saved thousands of dollars for students each semester. She initiated the "Every Class Every Semester" classroom orientations to help ensure that every student was informed and had a point of contact to reach academic services tailored to their needs," Zia said.
Each year a handful of employees are nominated by their peers for the statewide Classified Employee Awards, an honor bestowed on those that show the highest level of commitment to the CCC's Vision for Success and professionalism in their work at the community college level.
The statewide Classified Employee awards will be announced at the May's CCC board of governors meeting.
An LBCC alumnus, Dominguez began her own journey in higher education here before pursuing her Bachelors in Liberal Studies with an Emphasis in Mathematics at Cal State Long Beach, where she earned two teaching credentials.
"I feel when you grow up poor, there is a mental barrier to what you can achieve, community college can start to tear down that barrier," Dominguez said.
In addition to her role as MSC coordinator, Dominguez's more than 8 years at LBCC has lead her to multiple leadership roles in the shared governance of the college.
"When I started here, I said to myself I'm not going to join anything, I'm just going to focus on the center. Then you start to see things: this isn't fair, the students deserve this, we should change this. You can't make change if you just stay in your area, you can't complain about it if you're not going to step in and do something about it," Dominguez said.
Now, Dominguez is a Classified Senate Council Senator, a communications officer for the Classified Union Executive Board, a Tri-Chair of the school-wide Guided Pathways task force and a member of the Guided Pathways coordination team.
Classified Union President Susan Trask works with Dominguez on the union executive board.
"I am grateful to have someone that has the desire to always give more," Trask said.
A leader in the Guided Pathways program, Dominguez helps develop and refine roadmaps for the entire school, which is another testament to her commitment to remove barriers for all students.
"I was always geared toward education. At some point you establish yourself and figure out who you are, and what it is you want, for me it's helping others succeed," Dominguez said.
Mother to both a son and daughter, Dominguez and her family enjoy cosplay and their two dogs.
Dominguez is an avid animal lover who daydreams of a way to create a dog rescue as part of the MSC where support animals could comfort students with math anxiety.
At Comic Con a few years ago, Dominguez and her daughter both cosplayed as Rey from Star Wars.
An appropriate choice as Dominguez and Rey are both survivors from humble beginnings who are a part of something much bigger than themselves.
Sundee Dominguez believes in public education and the opportunities it can provide to all students.
"That's why I'm on Senate and Guided Pathways and doing all the things I'm doing. I am here for the students to help them succeed and advocate for them in every way I can," Dominguez said.