https://youtu.be/Ihgc-iwpeMA Philadelphia Eagles and Superbowl champion, Bryan Braman returns LBCC  as an alumnus and shares his experience with athletes, scholars, and former coaches.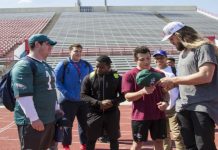 Former LBCC football standout Bryan Braman returns as a Super Bowl champion with the Philadelphia Eagles as he met with employees, former coaches, and fans today at the Vets...
A convincing 37-10 victory over Bakersfield in the Patriotic Bowl played Saturday, Nov. 18, allowed the Vikings' football team to end their season with eight wins and three losses. LBCC...