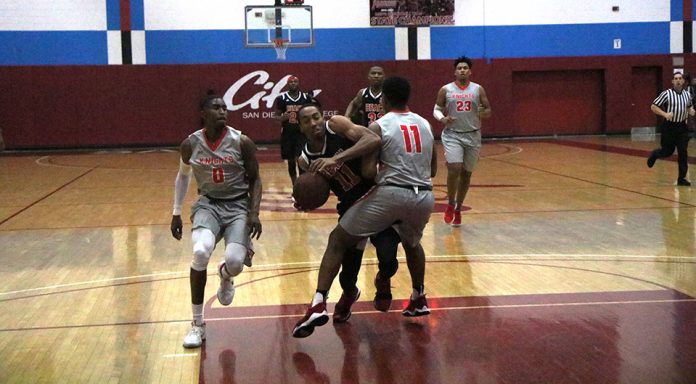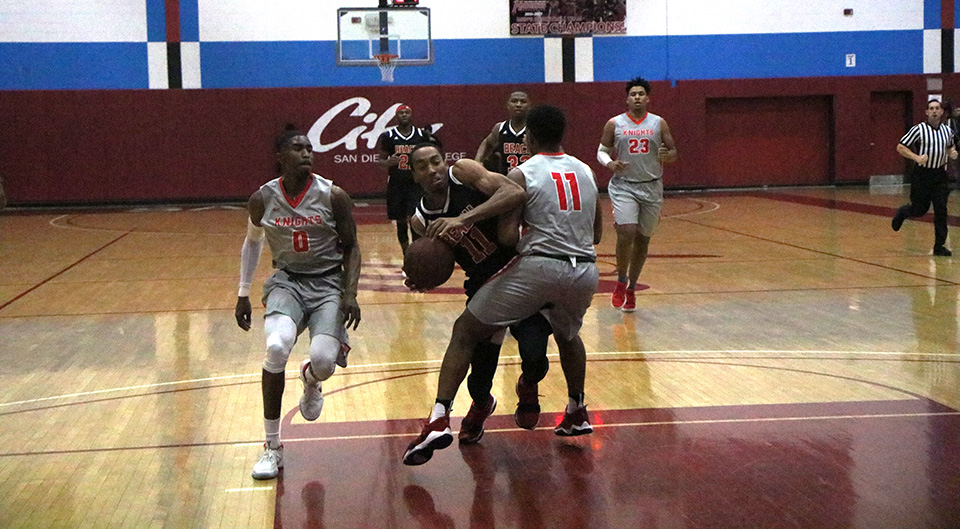 After having their most successful season in the last two years, the LBCC men's basketball team took a tough loss, 116-97, against the top seeded San Diego City College Knights on Saturday evening, in the second round of the CCCAA regional playoffs.
The Vikings came in as heavy underdogs as the 16th but were able to keep the score close in the first half, even cutting the deficit to two at one point. "The first half we were battling, going back and forth," said freshman guard Jamiu Akinbile. "They're a good team, but we kept up."
Akinbile set the tone for Long Beach in the first half scoring 20 of the teams 44 points. With a 3 point jump shot and a couple layups, sophomore guard William English added 7 points to the Viking score. Freshman forward Artis Parris gave the Vikings 5 points, and with 28 seconds left on the clock, sophomore guard Isaiah Keyes made a layup, the Knights went into the locker room with a 56-44 lead.
Freshman guard Jeremiah Sadler made a few layups, free throws, and a killer 3 point jump shot to lead the Vikings with 12 points in the second half. Both freshman forward Matthew Wooten and freshman guard Jordan Heard contributed 8 points each, but the San Diego offensive attack was too much for the Vikings to handle.
"What a great experience to let the guys know what a championship team is made of. They got a good example rather than us talking as a coaching staff," said Viking coach Barry Barnes.
A defending championship team with 30 wins and only 2 losses this season, the Knight's victory over the Vikings, a fairly young team with four freshman starters, boiled down to experience, said Barnes. "They've been through where we need to go. This was our first process, and I think with all the freshman coming back, we'll be pretty good next year."
After missing the playoffs the last two seasons, and an especially disappointing seven win season last year, the Vikings were able to add 12 victories to their record this year and finish the season at 19-12.
Having four of the five starters coming back next year, the Vikings look to build on this years success and carry it over into next year, "We're always going to play hard, that's what we do," said Akinbile, "Next year, we're coming back strong."