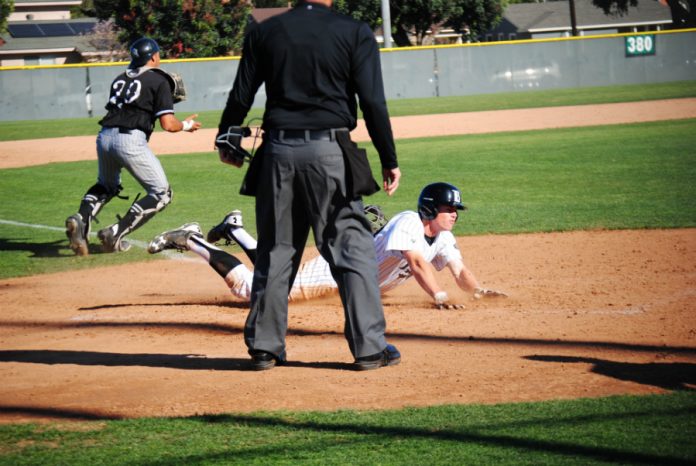 Trailing from early on in the game and unable to mount an offensive effort to close the gap in scoring, the LBCC Vikings' Men's Baseball team left the field disappointed with their performance Thursday, March 15 after their 7-2 defeat at the hands of the Rio Hondo College Roadrunners.
The Roadrunners started the game strong, scoring 6 runs in the first inning and another run in the second to jump to an early 7-0 lead.
Neither team was able to score again until the bottom of the sixth, when sophomore third baseman Reese Berberet and freshman outfielder Danny Gill both scored runs off a double by freshman outfielder Salvador Delgado Avila, cutting the Roadrunner's lead to 7-2.
Despite having runners on base in every one of the last few innings, the Vikings were unable to score, falling to the Roadrunners 7-2 after nine innings.
The Vikings have been struggling as of late, losing 7 of their last 10 games. They hold a record of 10-12 overall, and are in third place in South Coast-South Conference, where their record is 2-5.
The Vikings were visibly disappointed after the loss, and head coach Casey Crook held nothing back when expressing his displeasure with his team's performance.
"We are playing very poorly right now. We have been for the last few weeks and we can't seem to get out of it," Crook said, "we've got a lot of things to work on. It has nothing to do with Rio Hondo. We're just not playing good baseball."
The Vikings have a chance to a avenge the loss when they face the Roadrunners again on Saturday, March 17 at Rio Hondo College. Freshman catcher David Balboa thinks his team needs to work on a lot over the next two days.
"It was a rough loss, I think we're gonna come back to tomorrow and try to get better as a ball club and get back on a winning streak. If we take better at-bats, we should be good for Saturday," Balboa said.
Sophomore outfielder Aaron Fawcett was disappointed with the loss, but kept his focus on the next game, clearly summing up his team's shortcomings and where they need to improve.
"We need to make an adjustment for Saturday," Fawcett said, "I think we need to have a different approach at the plate as well as keeping balls down in the zone on pitching."