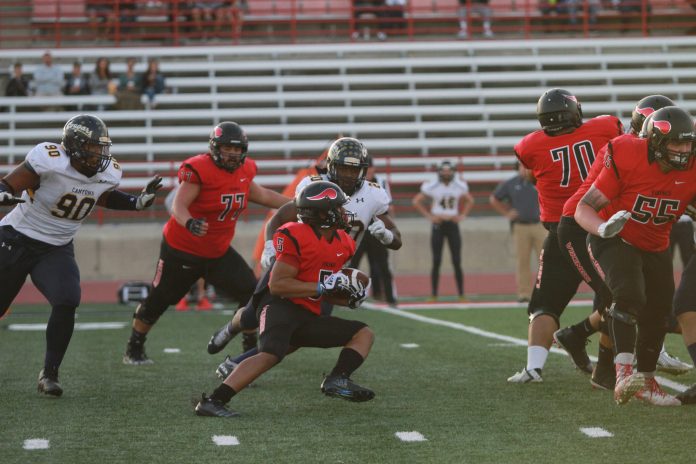 The LBCC Vikings football team fell to the undefeated Canyons College Cougars in their last home game of the season with a score of 34-7. Backup quarterback Jonathan Murphy completed 157 passing yards for the Vikings on Saturday.
Running back Teshawn White scored the first touchdown of the game with a four yard run, putting the Vikings ahead with a lead of 7-0.
The Cougars quickly came back with a touchdown made by Kenny Torance and a extra point from kicker Tanner Brown tying the game 7-7 with 5:35 left in the first quarter.
The Vikings led with a strong 131 rushing yards against the Cougars 71 yards, but the Cougars offense were stronger in their passing yards with 327 and the Vikings at 187.
The Vikings were shut down by the Cougars, keeping them from putting anymore points on the board.
Near the beginning of the second quarter the Cougars recovered a fumble made by Jonathan Murphy at the Vikings' 48 yard line, which they were able to convert into a touchdown minutes later.
Quarterback coach Sean Flynn spoke highly of the Cougars performance on Saturday, "they're a good team, they're number 1 in the state for a reason, they are very well coached and extremely disciplined, taking nothing away from them," said Flynn.
The Vikings have lost just over 20 players throughout this season due to injury, "I'm not an excuse maker, but we are losing guys left and right just on fluky injuries, but I thought we fought hard tonight," said Flynn.
Assistant coach Jeff Evans talked about improving during the off-season to be more prepared on the field "We are being physically controlled upfront on the offensive and defensive lines," said Evans. "Being able to make tackles, pull in passes with the receivers, being able to run through tackles all comes back to what we do in the weight room during the off-season."
"We've had injuries here and there, but these guys aren't quitting, they show up to practice and work hard everyday, they're in it to win it. We aren't getting the winning side of it but we're getting the effort level and that's all you can ask for as a coach," said Evans.
"You win some, you lose some, but the goal is to bounce back harder next week," said defensive end Pierre Hayes.
The Vikings will travel to Ventura tomorrow for the final game of the season to fight for a spot at a bowl game.