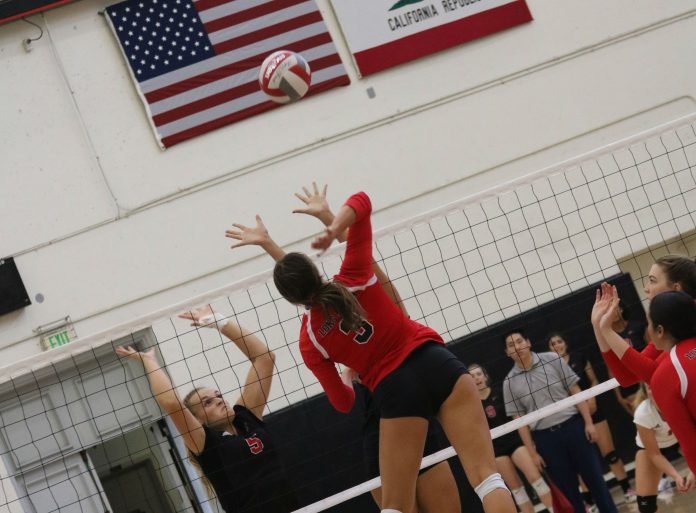 Women's Volleyball hosted their first home game on Friday, Aug., 31  in the Viking Quad Tournament. The first game being a 3-0 sweep against Palomar College (25-9, 25-18, 25-21).
The Vikings would again have another sweep against San Diego Mesa (25-13, 25-17, 25-14) in which in one of sets the Vikings were down 0-5 to the Olympians, but would eventually group and end the third set with a 25-14 win.
Freshmen outside hitter Tylie Johnson came out aggressive in both games with a total of 22 kills, with this being her first season she hopes to contribute right away. "I joined this team with the goal in mind to get better and to make the team better in whatever way I could, so that's going to remain my priority throughout the season," Johnson said.
Sophomore outside hitter Jessica Blakeman was one of the returners from last years team and talked about her approach as a leader on this team. "I'm just trying to be everything I looked up to last year, I had a lot of great players encouraging me on and off the court encouraging me and I want to be that for the younger players and give them confidence when playing," Blakeman said.
The Vikings have now a 1-1 overall record so far in their season and with a very young roster. Coach Misty-May Treanor expects some growing pains but also likes what she sees from her young volleyball group.
"We're actually trying to find our rhythm, we have about 14 freshmen on the team so we're just trying to find what combination that would give us some sort of calm out there and I thought our team did a good job adjusting to our competition today," Treanor said.
Even with a young roster coach Treanor sees a big strength in her team. Treanor shares, "I would say our strength is we're a good passing team and good setting and if we can get everything else to coordinate we can do well."
The Vikings next home game will be on Wednesday, Sept., 5 against Mira Costa at 6 P.M. in the legends quad.