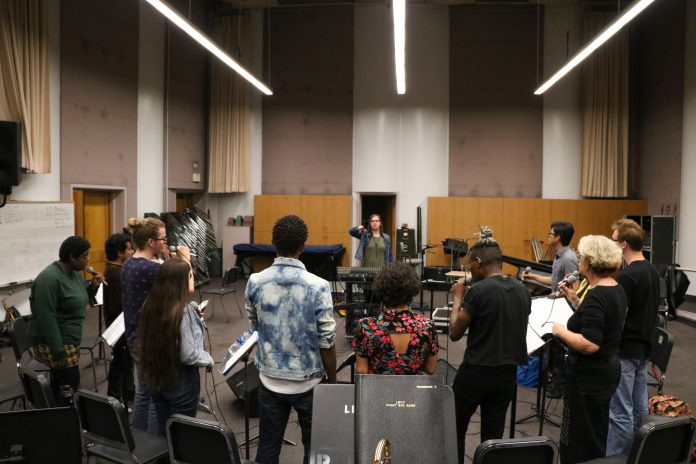 LBCC music department's vocal jazz teach both new and experienced majors to develop and improve their music skills, particularly their voice, even if they have never sung before.
Director of vocal jazz studies Andrea Calderwood shares her thoughts about the department. "Vocal jazz is an exciting way to be the lyrical workers and learn the jazz traditions that start with instrumental music and apply it to the voice," Calderwood said.
LBCC offers two jazz choirs, one which does not require an audition and one that students must audition for.
The audition-only class meetings are also known as lyrical workers Music 24, which typically what jazz majors take.
Vocal jazz students support their classmates on how they practice their part, hone their skills, and treat each other like a family.
"If you want to improve your voice, understanding of modern pop styles, and be a part of a team and a family here on campus, vocal jazz is the place for you," Calderwood said. "It is either you've got a lot of experiences singing or someone who has never sung before is welcome at Vocal Jazz family."
Music 24 is mostly for music majors who want to transfer to a University whereas the other class is open to all majors regardless of what they currently study.
Vocal jazz skills may provide potential employment for students who are interested in taking it to the next level beyond taking classes such as becoming a studio singer, a music therapist, a church musician, a paid section leader, a composer and more.
Victor Ochoa instrumental jazz and saxophone major mentions how the class improved his music performance.
"It gives ourselves a little advantage," Ochoa said. "With the director Andrea, we really get pushed to exceed our own limits. So, it really helped shape me as a musician."
"This will definitely help me reach a higher level in my musical versatility," Ochoa said. "I want to be able to sing stuff as well as play it so I cannot only be a saxophone player, but also be a singer. It gives me more opportunities in the career field."
John Gonzalez classical music major is taking the class to branch out of his major. The vocal jazz class gives him the opportunity to widen his music skills.
"I took this class just because I wanted to experience different genres instead of just classical," Gonzalez said. "I learned many different things, it expanded my knowledge for example, scatting and being able to do your own thing freely."
The class prepares students to have a prospective career in the music industry particularly if they complete an Associate's degree where it is sufficient to get them hired by employers of their choice.