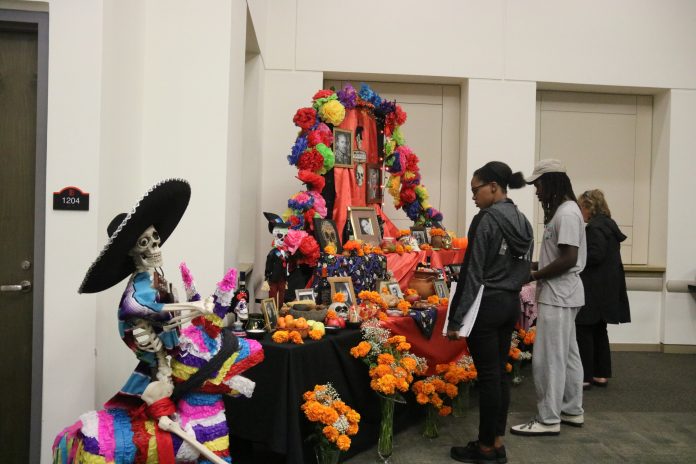 The celebration of Día de los Muertos was brought to LBCC on Thursday, as the culture and tradition were explored in a lecture sponsored by the Foreign Language Department.
Guest speaker Gregorio Luke, the former Director of the Museum of Latin American Arts, explained the traditions of Días de los Muertos including placing the deceased favorite drinks, food, and items to be displayed on the ofrenda or ritual altar.
The altar displayed at the lecture was constructed by a group of Spanish students and was dedicated to anyone that had died of violence from a bullet.
Luke expressed the importance of adding personal things and not making the ofrenda a competition.
"It changes the conversation completely," said Luke. "If you have little kids or grandkids, and someone passes away and is never mentioned again, it is very helpful to talk about it."
Building an ofrenda serves as a symbolic way of remembering the deceased by spending the time to collect the items they enjoyed in life.
Another tradition is to arrange flowers surrounding the altar to guide souls and create a path, usually leading to a church or home.
"Every religion tries to give us an explanation of death, an idea of what happens with death," said Luke. "If you want to know how you're going to be, how you're going to look, you can just touch yourself and feel the skull. You can feel the death that we all carry inside."
LBCC student Sarah Cobos comments on how Luke explains the way the Mexican culture views death.
"The way that he (Luke) compared the European side of death and the Mexican way of celebrating and not taking it so seriously was interesting because sometimes death is not something we often talk about here," said Cobos.
The papel picado banners, papers that are cut up to display different designs and patterns, add vibrant colors in the towns celebrating Días de los Muertos.
"Sometimes people didn't have the right idea on what it was about, and in the past have even confused it to some kind of Halloween and now we need to emphasize the importance of the remembrance of those who have passed on and keeping that memory alive of our ancestors," said Department Head of Foreign Languages Cynthia Quintero.
Students enrolled in Spanish courses with professor Veronica Alvarez, and professor Mejia Lopez will have an altar display in the quad at LAC on Thursday.