Prospective LBCC transfer students gathered in the LAC quad for the University Transfer Fair on Tuesday. All around the quad, four-year universities had set up booths to inform students about deadline applications, scholarships, and what the university system has to offer.
LBCC has hosted a University Transfer Fair each semester for prospective transfer students to learn more about the various UCs, Cal States, and private universities.
Former LBCC student and current CSULB student representative Kimberly Jimenez discussed why LBCC students should apply to a four-year university.
"Cal State Long Beach is a very friendly environment and is very diverse," Jimenez said. "The school has many opportunities for myself since I am a local student. The professors are excellent."
California State University, Long Beach has a low student to professor class ratio in order for students to have one-on-one assistance with their professors. If students are interested in CSULB more information can be found on their website www.csulb.edu.
Dominguez Hills alumni and representative Jackie Chavez expressed her love for the college.
"I love Dominguez Hills. Dominguez Hills was a place that I found support. I was a first-generation college student going there," Chavez said.
The California State University of Dominguez Hills offers programs such as Trio and the Dominguez Hills Transfer Learning Community to help transfer students academically when students transfer over.
"The semester before they (students) transfer to Dominguez, they can already start taking a general education course, its an upper division course, and it allows them to get familiar with the campus prior to transferring," Chavez said.
Students interested in California State University, Dominguez Hills can find more information on their website csudh.edu/future-students/apply/transfers.
LBCC student Noah Whittiker found the Transfer fair to be useful for his education plan.
"It was nice to speak to real people instead of going online," Whittiker said. "It makes the entire experience of gaining more information about the school you want to go to a lot more personable."
Whittiker plans to transfer to CSULB in 2020 and study theatre arts.
Laguna College of Art and Design representative Ray Vargas wanted to spread the word about the college to students.
"For us, since we are a private art school we are just looking to get the word out about the school and make sure that students know it is an option," Vargas said
Laguna College of Art and Design offers a Bachelor of Fine Arts degree which is different from the Bachelor of Arts degree.
"If you go to go to a traditional college like a Cal State or UC most of the time as an artist you will be earning a B.A.. curriculum, which is two years of general ed and two years in your major," Vargas said.  
Students that are interested in Laguna College of Art and Design can find more information at https://www.lcad.edu/.
Assistant director of undergraduate admission Jaclyn Robbin represented the University of California at the fair.
"I love working with students in the transfer process," Robbin said. "I love the opportunity to come here meet students directly and tell them about USC."
USC has an average rate of about one-third of the student population being transfer students.
"We never want our transfer students to feel like they are getting a different experience than an incoming freshman,"  Robbin said.
Students interested in USC can contact Robbins directly by going to https://admission.usc.edu/find-your-counselor/. Then, enter the name of the community college and her contact information will be given.
LBCC student Emma Williams attended the fair because she is planning on transferring for Fall 2019.
"I need to look more into the schools I wanna transfer to and really get a grasp of what their majors are about and their programs," Williams said
Williams plans to transfer to the California State University of Northridge or the California State University of Long Beach.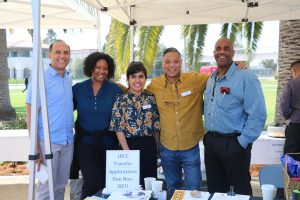 The LAC and PCC Transfer Coordinator Ruben Page believes that the University Transfer Fair is beneficial for students.
"You can talk to up to 70 universities all in one day. You can get information and get a whole bunch of contacts." Page said
The deadline to apply to the Cal States and UCs is on Nov. 30 for the Fall 2019 semester. The next university transfer fair will be held at the PCC on Monday, March 4.