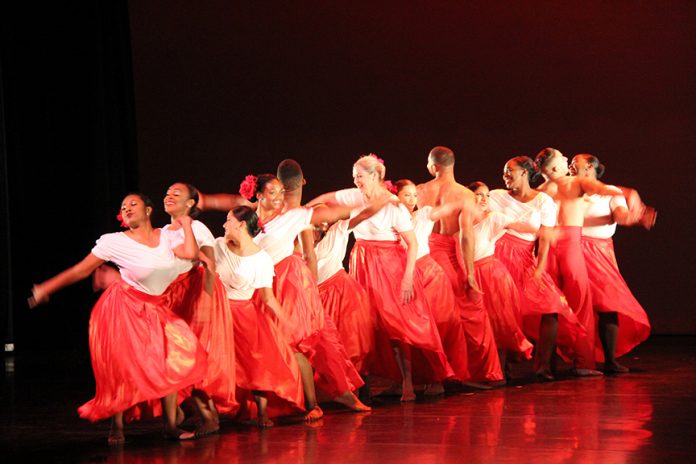 Even though the dance ensemble was presented in Downey, the performance included a variety of dances and audience members arriving with flowers for the dancers Thursday, Nov. 30, and Friday, Dec. 1.
The dance show was presented at the Downey Theater due to the renovation of the Auditorium at the LAC.
Jennifer Schmidt, 21, a marketing major, brought a bouquet of flowers and had come to see her best friend Melissa Hernandez who performed in  "Con Sabor," "Fly High" and "Pop, Squish and Sizzle".
"I am probably going to cry" with joy, Schmidt said. "She has been dancing since she was 3 years old."
The LBCC Performing Arts Department and the Associated Student Body presented the Fall dance ensemble directed by assistant professor Martha Pamintuan.
Zoe Silva, 19, an undecided major, said, "I'm pretty excited about  the show. I've seen a couple of rehearsals and it looks like it's going to be a good show."
The program featured nine performances. Each dance was about three to four minutes long and choreography by students and teachers.
"Xtra Xtra," a choreography by Jeffrey Hendrix, was the opening piece followed by "At the Edge" by student choreographer Tailor Marshall. Other dance pieces included "Who is He?," "A Lo Hecho Pecho" and "Con Sabor," a salsa remix of the song "Quimbara."
Pamintuan, who also teaches hip-hop, said the dancers were able to successfully present the dances: "There are lots of different styles. They were able to adjust to new dances. We have a great house and the audience enjoys it."
During the intermission, an opportunity raffle was conducted. Donors such as Ashley's Furniture, Clay (Clay on First) and many other donated gift cards and products were given away.