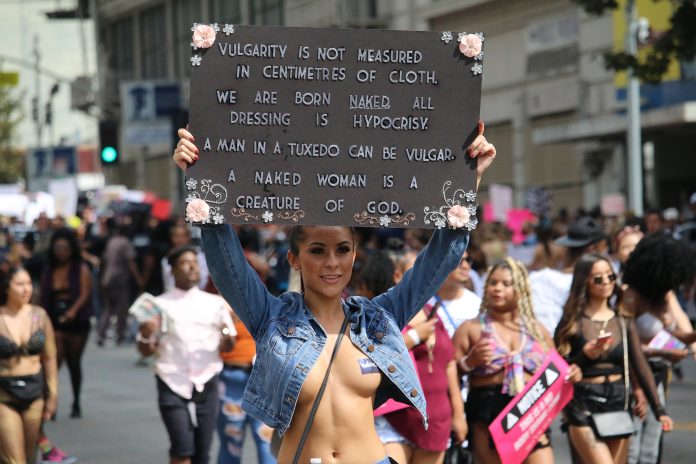 Amber Rose's 4th Annual SlutWalk
The Amber Rose's 4th Annual SlutWalk makes it appearance in Downtown Los Angeles at the Pershing Square on Saturday.
Amber Rose is known as an activist, entrepreneur, author, and social media personality.
Rose created the SlutWalk in Downtown Los Angeles to raise awareness about sexual injustice, gender equality, victim blaming, body shaming, and other social injustice issues.
Rose believed this SlutWalk was an important time for people to speak out.
According to their organization, their press kit received a quote from Amber Rose.
"It is a crucial time right now – especially with midterm elections being a month out – that we use our voices to speak out about social injustices that are affecting me, you, and our children because we can do better." Rose said.
This was a nonprofit event.
The Amber Rose's SlutWalk was a day festival for everyone. The day festival includes activities, vendors, sign making, and performances.
In the morning at 10 a.m., the day festival had a march from 1st and Hill Street to 5th and Hill Street to Pershing Square.
People that attended the march were making signs, dancing, and taking photos.
The ASB LAC club president, Heidi Alsangak, felt uncomfortable walking to the event because people were staring. Alsangak remember the reason why she was there and held her head high and walked confidently.
"I was taking back my power and realized I was not what others may believe, may clothes do not define me, and that world slut has no meaning." Alsangak said.
Protestors at the march that were against the SlutWalk yelled, "Everyone here is going to die," at the crowds.
Lifestyle blogger, Catherine Harris, experienced her first time at the Amber Rose SlutWalk on Saturday.
"It is a community for all us. There is no bullying and becoming one. It is becoming one like a family and loving one another." Harris said.
At noon people were allowed to come into the event if they registered at the entrance beforehand.
Artist of media and photography, Asia Dunn experienced her first time at the event.
Dunn believed there was great energy at the event. "It is a movement for victims of sexual assault or rape. I really appreciate what Amber is doing for us." Dunn said.
The event offered food trucks, vendors, pole classes, and performances of different acts.
There was a live DJ, DJ Carimsa, that curated the performances. The performances included musical performances from the artists, Saweetie, Toni Romiti, and other celebrity guest appearances. Also, there was dance performances from volunteers at the event.